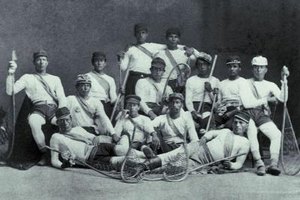 The Mohawk people are known in their own language as Kahniakehaka, or "People of the Eastern Door," because of their position as the easternmost nation of the Iroquois, or Haudenosaunee, Confederacy. The Mohawks primarily live in New York and Quebec, both on reservations and in urban areas. Their religious customs are a blend of indigenous beliefs and Christian practices adapted from European-Americans.
Background
Distinguishing traditional Mohawk spirituality from the present-day cultural mixture is difficult. Indeed, few Mohawks would even consider the traditional beliefs to be a religion; they include connections with ancestors and nature, as well as the importance of dreams. Christian conversions of Mohawk people began as early as the 17th century, by French Jesuit missionaries, and continued later by English colonists.
Ceremonies
Because Mohawk culture traditionally centers on respect for nature, the important ceremonies follow the pattern of the year's natural cycle. Eleven festivals, beginning with the Midwinter Feast, generally follow agricultural and weather patterns, such as spring's Thunder Festival and summer's Raspberry Festival. The Haudenosaunee community's homepage lists four sacred ceremonies performed at some of festivals: Great Feather Dance, Men's Personal Thanksgiving, Drum dance and Bowl Game.
Shamanism
Holy people known as shamans are the receivers of visions and interpreters of dreams, which are important to traditional Mohawk spirituality because they are believed to be messages of a divine will whose instructions must be followed. Shamans help believers to understand how to follow these instructions. Traditional shamanism heavily influenced the Longhouse Religion, which came to dominate the Iroquois Confederacy in the 19th century.
Longhouse Religion
The Longhouse Religion was founded in 1799 when Handsome Lake, a member of the neighboring Seneca nation, received a series of visions that he called the "Good Message." Handsome Lake had encountered Quakers in 1798 when his brother granted them residence because, unlike other Europeans, the Quakers never coveted Iroquois lands. The Good Message and Handsome Lake's subsequent evangelical career included elements of both Quaker Christianity, such as silent prayer meetings, and traditional shamanism, such as prophetic mysticism.
Photo Credits
Jupiterimages/Photos.com/Getty Images